More than 15 years ago now, I was playing a game called "Quake". Actually, I was playing a hell of a lot of it.
So much so that I started a news site about the burgeoning e-sport that ended up being the best-known one in the UK.
(Essentially, I was running an e-sports blog about five years before either the word "blog" or the phrase "e-sports" became a thing.)
I was also working toward becoming a novelist, because it seemed like the most accessible storytelling path for me. I'd thought about trying to make films, but the type of films I'd want to make were obviously far too big and expensive to even consider.
As a result, some of my Quake-playing buddies knew I wrote stories. And when some of them started messing around with the Quake game engine, making what were known at the time as "Quake Movies" in it, they asked me to come along and write them a story for what was to be the "UK Quake Movie".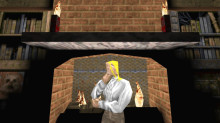 I, er, rather took over that project, and it ended up becoming the first part of a series called "Eschaton". Set in the horror universe of H.P. Lovecraft, it had nothing to do with the game at all, but focused on a couple of people trying to survive in a near future when all sorts of strange cults and wierd magics were becoming possible, and it looked a bit like -
Well, I won't spoiler you.
About half-way through the making of the first film, Eschaton: Darkening Twilight, I realised that what I had here was something amazing: the very start of a way of making films that could transform the medium, and let me tell any story I wanted to. So I decided to drop out of University and found a company.
16 years later, the birth of Machinima.com, my subsequent filmmaking career from feature film to work with Electronic Arts to ending up in a recording booth discussing character motivation and manned Mars missions with Brian Blessed have all been the result of that decision, and that film.
Eschaton: Darkening Twilight was made to be played in Quake, so it's never really been available as conventional video.
I'm very proud to say that today you can actually watch the film that started it all!
Note: Darkening Twilight was my first film, and so is the only one that has ever contained any un-cleared music. I've left it in for historical reasons, but obviously if Warner Music don't like that, then we'll have to pull the film. In that case I'll do a 2013 edit and re-upload!
Read more →